Wendy with MS able to give up Cane & Continues to Enjoy Life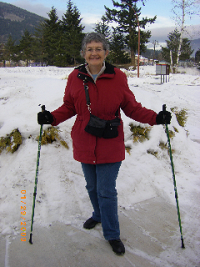 Hi Rosie,
The Feet just wore out with use.  My wife has MS and has a balance problem.
Walking with the Poles, she puts a lot of stress on her hands because of her problems with her weak legs. The velcro is just not holding anymore. She loves her Walking Poles and depends on them for all of her walking outdoors.
I do use mine occasionally but Wendy uses them as well as we keep mine in the car for occasions when we are out driving and decide to walk where her cane is not as useful.
Thanks to the Poles she walks for about an hour each day with our dog.
Ron
Dear Sheri;
Thank you so much for getting my new wrist straps to me so quickly.
I have literally used my old ones to the point the velcro will no longer hold! You have always sent me the things I need (new tips) so promptly that I am very impressed.
My name is Wendy Hurry and I have had Multiple Sclerosis diagnosed for 37 years. Thanks to your Walking Poles I am still able to walk outdoors and do the activities I want to do.
I walked for many years with a cane but a cane makes me lopsided.
After enough years my MS has taken away my sense of balance and caused me to walk like a drunk! No fun! The Walking Poles force me to walk up straight and I can go anywhere.
I hike, I tromp through the woods, I walk along stream beds hunting for rocks. I may be slow but I can go where I want to go.
God bless you Sheri for introducing me to Keenfit Walking Poles. You have made my life wonderful again.
Sincerely,
Wendy
Could you please send us 3 pairs of replacement feet. The ones with the angle. Yes my wife is going through them. I bet you don't have anyone using your Poles so much they go through them like Wendy. Remember she has MS. She has now completely given up her cane.
Ron
Wendy
Creston
, 
British Columbia – CA