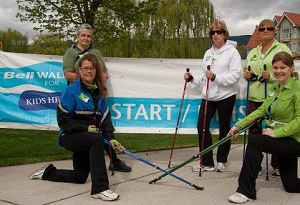 Over the last 10 years Keenfit -The Pole Walking Co., either through head-office or through a wide selection of its' wonderful independent Certified Pole Walking Instructors, has participated in countless community & fundraising events to both help raise awareness for a multitude of causes or raise money for a number of causes. We appreciate all of those Instructors who have stood-up to play their role in making a difference in the world by either:
Participating in or assisting-at different Walks
Participating in or assisting-at many special days or events
Presenting or teaching for different Health Groups/Associations
Gathering their Walking Groups to raise money & contribute
Donating Walking Poles to raise money
Keenfit is honoured to have been affiliated with or contributed to . . .
BCRPA Symposium – Sun Peaks
Brain Injury Society – South Similkameen
Bridge's Active Living Team
Canadian Orthopedic Nursing Association
Cancer Society
CHIP -Complete Health Improvement Plan
City of Kelowna – KickStart Program
City of Penticton
Steps out Program
COACH -Central Okanagan Association for Cardiac Health
Curves
Diabetes Association
Discover Sun Peaks Adventures
Dycks Medical Centre
Healthways – SilverSneakers Fitness
Heart & Stoke Foundation
JDRF -Juvenile Diabetes Walk
MS Society
Orthopedic Walk – Stride with Pride
Osteoporosis Society
Parkinson's Association
Peachland Wellness Center
Prospera Credit Union
Rec Excellence – Vernon Multiplex
Retired Employees Association
Revenue Canada
Running Room
Salvation Army
School District No.23
TOPS Club -Take Off Pounds Sensibly
WCB -Workers Compensation Board
Weight Watchers
YMCA