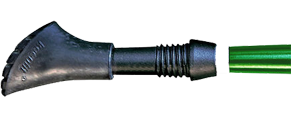 Road-feet are made of soft yet durable tough rubber.

They attach to the bottom of your Poles over your carbide-tips.

Perfect for hard-surfaces like pavement, roads & sidewalks - adding extra shock-absorbency.

These feet help you grab solid-surfaces so you can confidently support &amp/or propel yourself forward.

They can also be used on softer more loose terrain by simply facing the point of the toe forward instead of back. For more details see 'How to set your Poles'

Safe for gymnasium floors &amp all inside or outdoor tracks.

2 Pair of Road-feet come with each set of Keenfit Walking Poles.