Get fit with Keenfit and Walk Your Path!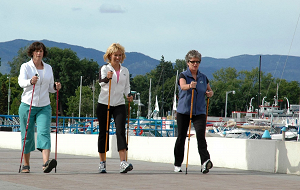 Since 2004 Keenfit has been a leader in
bringing Pole Walking to North American's.
We are proud that we aren't just about Walking Poles but rather that we are about Pole Walking! This mantra has helped us hold true to our mission
and keeps us striding confidently forward towards making a difference in the health of our world.
Our Mission: is to inform, inspire, empower and support people to become accountable for themselves so they can find balance, live in peace and walk as their true selves.
Our Vision: is to raise the fitness level of North America and ultimately – The World.
Our Goal: is to create a Walking Revolution!
And with accountability being the key and with Pole Walking being one of the easiest forms of exercise we can pretty much all do, there's no reason why we can't accomplish this vision!
'Get Fit and Walk YOUR Path!'
Find Out How Keenfit Got Started: