Keenfit –  The Pole Walking Company
Toll Free: 1-877-533-6348
Phone: 1-250-769-9241
Fax: 1-250-769-0831
Hours: Mon – Fri 9am – 5pm PST
---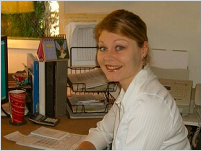 Hi there!  Please call or email me with any questions or concerns you may have.

Thank-you & have a beautiful day!

– Rosie
We want you to know that anytime you have a question about your Walking Poles or any Pole Walking challenges you can just give us a call. EVERYBODY that answers the phone here at Keenfit is an experienced Pole Walker. At a time when many companies are pawning off their support calls to overseas operations or automated systems that require you to jump through endless hoops, we are proud to say that when you call Keenfit you will always reach someone who speaks English … and most importantly, Speaks Pole Walking!
We want you to be happy with your Keenfit Walking Poles & keen about using them!
If you are visiting our website after hours, we have an extensive frequently asked questions section to assist you in answering your questions.
Please email us: