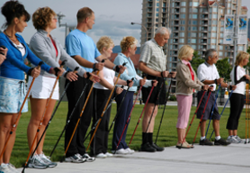 The Keenfit Walking System is fun & easy to do.
Attending a Keenfit Pole Walking Clinic is
AWESOME, fun & informative!
We have Certified Keenfit Pole Walking Instructors across North America & beyond, that have all have been trained to teach FREE Pole Walking Clinics & run Pole Walking Clubs.
For further details & information about our Keenfit Certified Instructors…
Where they are located or if there is a Clinic or Walking Club near you…
Please Call us Toll-Free at 1-877-533-6348
OR
---
We look forward to hearing from you
We would LOVE for you to join in on one of our
Keenfit Clinics or Walking Clubs
---