What is a Certified Keenfit Pole Walking Instructor?
A Certified Keenfit Pole Walking Instructor is someone who:
Has a pair of Keenfit Walking Poles
Walks regularly & feels confident using them
Truly Loves Pole Waking
Enjoys people
Likes teaching & helping people to learn something new
Wants to become an Instructor
Likes the idea of being a Healthy Role Model
Wants to pass on the amazing health & fitness benefits of Pole Walking to others
Is either independent or works for a rec. center, health office or fitness club
Likes the idea of running Pole Walking Clinics &/or Walking Clubs
Likes the idea of being able to build your own profitable Business
Has a Internet connection with their own computer, to access the Keenfit Online Instructor Portal and Support tools
If you LOVE Pole Walking, you enjoy people and you like the idea of being a Healthy Role Model then come along and join our team!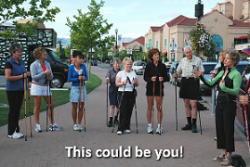 This is a great opportunity if you want to be part of Helping to Raise the Fitness Level North America & creating a Walking Revolution.
Our Keenfit Certified Pole Walking Instructors receive the training to run their own clinics and clubs at their local rec. center, local park, health office, fitness club or any place where you can find people who truly want to change their lives.
Our most successful Instructors have created their own profitable businesses just by doing something they love!
Keenfit Pole Walking Instructor Certification Program
We have two Packages – Each Designed to Fit Your Level of Commitment.
Select the Instructor Certification Package that best suits you:
Basic Instructor's Package #1
ENROLL NOW
Only $198.98
Regular $298.98
Business Builder's Package #2
ENROLL NOW
Only $498.98
Regular $598.98
For more information or to get started call 1-877-533-6348