Weight Loss, Tennis Elbow is better, & Walked first half Marathon ever.. with Poles!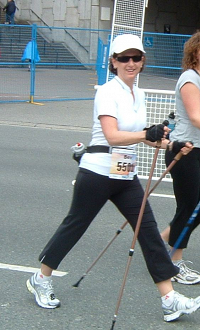 Testimonial Letter 1
Dear Sheri,
In October, I purchased a pair of Keenfit Walking Poles.  At the time, I was (and had been for over 2years) suffering from tennis elbow. Not only was I in pain all the time going to physiotherapy & having cortisone shots – but I couldn't even do up my bra!
I wasn't too sure (with my elbow) that I could actually use Walking Poles, but from the moment I first tried them I just loved how exhilarating they made me feel – so I persisted and well I'm so happy to say that since using my Poles, my tennis elbow no longer bothers me.
I also have dropped 2 sizes, which of course is just awesome. My Poles are the best!! They are the best money I have ever spent on myself – I'm definitely a true Keener!!
Thanks so much.
Testimonial Letter 2
Hi Sheri,
Here's an add-on to my testimonial. Almost a year to the date that I started walking with Keenfit Walking Poles – I completed my first half marathon.
This was such a huge accomplishment for me, and I know without my Poles and the energy I have obtained from them … this is something that would not have happened for me.
I can't wait to walk my next marathon this spring and many more to come!
Bev – age 45
Vancouver, British Columbia – CA