We take our Poles Everywhere!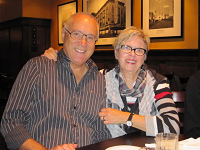 My husband and I have both been using the Keenfit Poles for at least 4 years now. We don't go anywhere without them…down the hill to the beach in White Rock, to the walking track, to a movie and even shopping…just take my backpack!
When we go on vacation, the Poles come too…bought a 3 section pair so they fit in the suitcase. I have come to realize that I walk more efficiently with the Poles; no stumbling or tripping on uneven walkways and I can go at a good steady pace. We both benefit from the Poles, the knees & hips feel better and I honestly think my shoes show a more even 'wear' on the soles.
We can't imagine life without the Poles..they have become an important part of our lives.
Christine & Ray
 – age 
65
White Rock
, 
British Columbia – CA