The Keenfit Walking Poles have given me more Freedom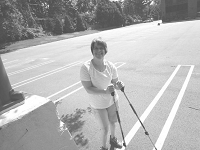 I am writing to share my experience with KeenFit Walking Poles. They have changed my life due to your knowledgeable staff. Your staff person, Rosie, sent the KeenFit Walking Poles to me. She recognized the benefits that I could gain from using the Keenfit Walking Poles – and they changed my life.
I have a diagnosis of Spastic Cerebral Palsy and have used some form of a cane or crutch for the past 25 years. Last October I started to develop pain in my hands, arms and shoulders, all of which resulted from overuse of the canes/crutches. To treat the problem, Doctors had me switch walking devices. I was using Canadian Crutches and they were not working for me. They were heavy and cumbersome and I was prone to falls with them.
As part of ongoing treatment, I have also been working with a personal fitness trainer who has been working with me on strengthening, stretching, resistance training and a range of flexibility exercises. The gains from the training were not carrying over when I was using the Canadian Crutches. When I used the KeenFit Walking Poles, results from the personal training carried over.
For example, I am using my legs more than my arms to stand and move with the Walking Poles. The pressure on my arms, hands and shoulders is less. I can stand easily with the Walking Poles. I have better posture and can pick up my feet better. When I took the Walking Poles to my personal trainer, he said, 'I want you using these Walking Poles full time.' The KeenFit Walking Poles have given me more freedom. They have been tools that have improved my gait and have allowed me to do what I have never done before. All of this resulted from Rosie and her skills to recognize a Client's needs. I thank you for this excellent product and want to recognize Rosie for her awareness, knowledge and first-rate service.
Watch Kerry's Gait from all angles here:
http://www.youtube.com/watch?v=0rp38V6_9os
Hi. I wanted to share the latest in the Botox / Leg treatment saga. Today, March 22, I hit another milestone. I walked on a treadmill. Those who knew me before these treatments, know that a treadmill would have been a nightmare with my balance issues. I would have ended up on my nose. Today, I felt like I was in a marching band. I was picking up my feet and knees. I am over the moon once again. Of course, the trainer was riding my tail the entire time…. and the time on the treadmill was not 30 seconds, it was 20 minutes. This new element will become a part of the ongoing routine of strength training and swimming. Sometimes, gifts come in the smallest packages. Will keep you posted! Kerry