The chiropractor treatments could only ease the pain but not cure it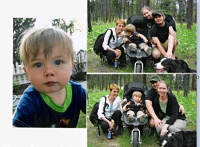 Hi Sheri,
I would like to share my story for thanking you for your promotion of the Walking Poles, your initiative with offering the Pole Walking Clinics, and here it is:
In August last year I moved to Kelowna from Vancouver to join my family, my daughter, her husband and their first little boy Yoshua. I wanted to be closer by.
The next few months all my energy was taken up by settling in both in the area and also the new job at UBC-Okanagan. Unfortunately, I was suffering from pain and aches in my body, especially lower back and it seemed as aching everywhere in my body. The chiropractor treatments could only ease the pain but not cure it.
I had been a regular fast pace walker in Vancouver, but had not yet taken it up here in Kelowna; and because of the pain I didn't really feel like it which I think made it even worse. When my grandson reached 15 pounds I had difficulties in lifting him up or holding him for a longer period of time. Something had to happen.
Anyway, I decided to sign up for the Kick Start program and signed up for your Pole Walking Clinic at the Rec Centre. It all made sense to me what you have been telling us. And when you told me that you are planning to come to the university for a Clinic, I signed up for this one too and I bought the Poles. Meanwhile as you will know we have a club called the UBC Pole Cats and I enjoy my walks very much.
Soon after regularly walking (we usually walk during our lunch time for 30-40minutes) I could feel that my core muscles were strengthening and also my arms. This took away the stress and strain from my lower back with which I had been compensating the weaker muscles in the core. And it's getting even better:
I feel energized
I have only occasionally pain in my back (everybody has a bad day once in while?!)
And – the miracle- I have no problem in lifting up my meanhwile 26pounds weighing grandson Yoshua.
Thank you Sheri
Hiltrud (63 years old)
I have attached the happy family. They find it wonderful that grandma can run around again.
Hiltrud
 – age 
63
Kelowna
, 
British Columbia – CA