Some of Instructor Carolyn's Adventures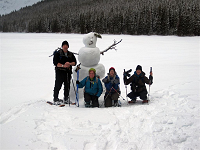 Hi Rosie,
After reading the newsletter, I thought I would send you this picture. My husband and I are only 99 days away from leaving for Nepal and we are walking daily to keep in shape. We use our Poles every day for either a walk around town, or a walk in the coulees. We try and head to the mountains on a regular basis for some snowshoeing and yes, we take our Poles. This past weekend we did 7.5 km snowshoeing in Waterton National Park with our Poles. I have a pair in the car and a pair by the door ready for our daily walk. Thanks, Carolyn
From another Carolyn email:
I have personally been walking a minimum of 15 km a week for the last three months and I have lost weight. Yeah. My own testimonial as to the health benefits.
Carolyn is also a Keenfit Instructor – and these are a couple of Testimonies she has up on her website:
Testimonials……
I love my Poles. I have noticed that my knees are doing much better and I haven't had to go for my back adjustment for 5 weeks. I was going weekly. Even my neck is doing much better. I don't like walking without them. Holly from Taber
I JUST LOVE MY WALKING POLES. I am a dragon boater and also a breast cancer survivor. Walking with the Poles is helping me to obtain a Healthy & Active Lifestyle. While walking with the Poles I am working my arms, legs, core muscles and, therefore, achieving a total body workout all in my walk. Pat from Lethbridge
Carolyn
 – age 
63
Coaldale
, 
Alberta – CA