Poles work well Off-Road Walking & are especially Helpful on Slopes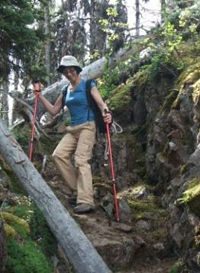 Good afternoon Rosie and Sheri,
It was nice to meet you Rosie for the first time and to see you again Sheri for the second time. You both seem like old friends now.
I certainly appreciate you refurbishing my Poles so that I can get more miles out of them. They have taken me many places: from Revelstoke National Park to Cathedral Lakes to Enderby Cliffs, Blue Nose Mountain, Pin Cushion, Cougar Canyon, RimRocks, High Rim Trail, Little White, Twin Lakes, Vista Pass..and I am not done yet.
I love the outdoors and off -road walking and my poles are especially helpful on slopes, as you can see. Thank you again and I will make a point of giving out those handy Pay-it-Forward cards.
Cheers
Elisabeth – age Late 40's
Winfield, British Columbia – CA