Long Lasting Pole Feet, Winter Walking & Why (benefits)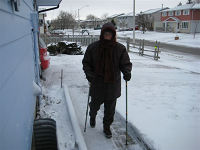 Subject: Pole Feet
Hi,
This is Garet's sister and I saw you when I was out in BC. I just want to tell you how great these new long-lasting feet are for the Poles.
Hardly any wear and I've been using them since you put them on, May 25th. Good to finally meet you. Roxanne
Also from Roxanne:
Hi,
These are some of the benefits of Pole Walking for me. As you can see from the pictures, I walk fairly early in the morning while it is still dark in the wintertime. I put more reflective tape on the Poles for better visibility.
I live in Ontario where we get a lot of snow so the Poles also give me a lot of stability in winter walking.
My arms are stronger with more endurance for repetitive motion like sanding or sawing.
The Poles have saved me from falling several times on my daily walks, some on uneven ground.
I find I feel better and breathe more deeply when I'm using the Poles. They are truly a health benefit for me.
I've only met a few people who use them, but I always promote them when someone asks about them. We've had several articles in the paper about them and I think people are becoming more aware of them and the benefits of using them.
I'm sold on them, anyway, and I thank my brother Garet for sending me a pair.
Roxanne Elmira, Ontario – CA