Improved Posture & more Zest for Life!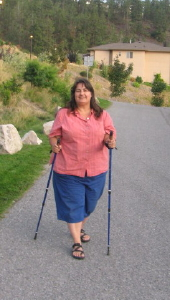 I reluctantly took a Pole Walking seminar at my husband's proding about 2.5 months ago. I am extremely overweight & knew I needed to change my lifestyle.
Earlier this year, I had started a popular weight loss program that promotes healthy eating & exercise so was also interested in new exercises. At the orientation they told us of the benefits of Pole Walking: weight loss, muscle toning, improved posture, less weight on the joints, increased ease in going up hills, etc.
So often, when new things are promoted, they promise things that do not happen, so I thought I will see, perhaps they will happen over a long period of time. During those practice sessions, I was the person at the end of the pack going the slowest.
However, my husband & I bought the Poles, started using them every morning & almost immediately, I noticed improved posture & after several times got my arms & legs coordinated & walking became easier & we walked faster. We were able to combine Pole Walking with another passion of ours – birding.
Within a couple weeks I was doing small hills that I would have never believed I could do. Within the 2.5 months that I have been Pole Walking 6 days/wk, I have changed my lifestyle so that I can continue with my new passion of Pole Walking.
Even though I was always an evening person, I now go to bed early so that I can get up early to walk before the heat of the day.
TIPS THAT HELPED ME
1. Start off gradually – do not expect yourself to be an expert overnight
2. Find a friend to Pole Walk with – the days you just do not feel like dragging yourself out of bed – that may be the encouragement you need.
3. Get more sleep if you need it so that you do not become exhausted and quit.
REGRETS I HAVE
1. That I did not do my measurements about the time I started Pole Walking – in the first month or so my measurements really changed, especially my upper abdominal area!
BENEFITS OF POLE WALKING
1. More Energy
2. More zest for life WARNING You may get addicted to the adrenaline high like me & love the sport!
Katherine
 – age 
48
Kelowna
, 
British Columbia – CA