Hiking with Poles, Great Parts/Warranty Program, & Paying it Forward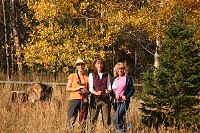 Hi Rosie and Staff:
Want you all to know how much I appreciate the Keenfit Poles–their affordability and durability outrank so many on the market. I have sold their merits to my two best hiking buddies and if I needed a second job, I assure you I could go door to door selling them.
Every time we leave our cabins in the Crazy Mts. we have our Poles in hand. Can't tell you how many times they have saved our knees and ankles from a sprain.
Crossing streams while negotiating a log is a snap–nothing like two Poles for balance!
Lastly, your company is awesome when requesting additional parts–quick response and the price is right. Keep doing what you're doing!
Thanks for being the great company that you are and I will continue to sing your praise.
Picture Left to Right
Leah Candy Joy
Candy
Billings
, 
Montana – US