Depression Lifted, Knee Pain Reduced & now have Huge amounts of Energy!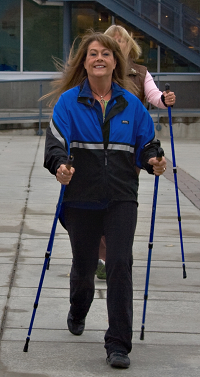 First I'll start with a bit of personal history. I am 50 year old female and have been active all my life. Competitive sports I played them all. Women's fastball was my favorite sport. I was a cashier in a very busy grocery store so many long hours on my feet. The twisting on your body running a till does take its toll after many years. I loved to run but was finding it harder and harder on my body, knees especially. I had an old baseball knee injury that had flared up again. I was getting pretty depressed not being able to be as active as I would like. I could no longer run so I was walking a lot but I found it rather boring. I would see this lady that always shows up at Mission Creek Park to teach how to Pole Walk?
Hmmmm, I talked a friend into coming and we had a blast but learned some amazing results could be reach by using Poles while you were walking. I took another FREE Pole Walking Clinic and purchased my first set of poles in April.
I could feel the difference within the first week. My arms were tightening up; I could feel my upper body also tighten. I was not sore, there was less impact on my knees and I could go a lot further. I had huge amounts of energy. I felt like I was getting the exercise I needed and loving life again.
I had run into Sheri, The Pole Lady from the park, & had inquired if she knew of anyone who would like to meet regularly to Pole Walk and she suggested that I become an Instructor for Keenfit.  I've never looked back and it has been about a year and a half.
I have 3 free Walking Clubs every week that do very well. I have also enjoyed Instructing many Clinics. I love showing people the benefits of the Poles and even more so I love my Walking Clubs. I've seen many friendships grow and have found that if they know you are going to show up, they make a commitment to come also.
I am Walking my Path and I invite you to come join me also.
Barb
 – age 
50
Kelowna
, 
British Columbia – CA