Curves of Golden uses Poles to train for 10K's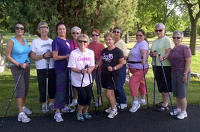 Curves of Golden partners with Keenfit Poles:
January of last year, one of our Curves members was going to turn 80 the day before a huge race, the "10K Bolder Boulder" in Boulder, CO., and she inspired our Curves to consider doing this race with her as a group.
We had just started the Keenfit Pole Walking Clinics at our Curves Club for our preferred alternate day activity to keep moving every day, so we decided to use this avenue to train and get a total body workout at the same time.
We started walking in a mall the first 4 months and then moved outside. Long story short we took 38 people to the race with us. We weren't able to use our Poles in the race, but the training equipped every person with the stride and stamina to finish the race.
All the Pole Walking and the inspiration of training for a race and then completing it evolved into 5 one hour Walking Clubs that meet weekly to walk together and a buzz on the Curves circuit that inspired many more to get involved in this sport.
We do a Keenfit Pole Walking Clinic monthly and have had 72 people attend the classes. After attending the clinic, 98 percent of those attending the class have bought the Keenfit Poles. We have sold 80 pairs of Keenfit Poles so far and are pretty much addicted to walking. Attached are some pictures of our Clubs.
Jackie L.
Owner
Curves of Golden
Jackie L. Golden, Colorado – US