Couldn't have done 'The Canadian Death Race' without them!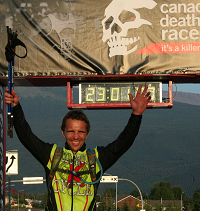 Hi,
Thought you would enjoy this picture of Ben crossing the finish line with your Keenfit Walking Poles.
He said "I couldn't have done the race without them!"
Could be a whole new market for ultra-marathoners. . .
Thank You, Sheri.
Beth for Ben
Ben
 – age 
40's
British Columbia – CA