Back is now Better-Arms gained Muscle-Have more Energy!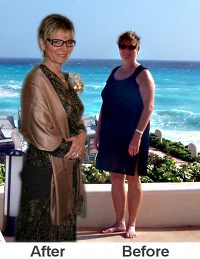 I joined the Westbank Walking Club hosted by Cathy Marks, early in the new year. I am 55 yrs. old & have a steel plate in my knee which has resulted in lower back problems. Walking as an exercise was not an option for me.
I am happy to say that as we progress into the month of March that I am NOW WALKING 4 KM a DAY (45 min work out at Royal Lepage Place) and my knee does not hurt when I walk with the poles, & my back does not go out as often as I am toning my core muscles through the use of the Keenfit Poles.
(This is better than doing sit-ups!) I have lost 2 inches around the ribcage (toning) and my arms are now getting muscle. I feel better and have more energy. Using the Keenfit Poles is enabling me to live a fuller, richer, & healthier lifestyle.
Paulette
 – age 
55
Westbank
, 
British Columbia – CA