3pc Poles 'on the Road'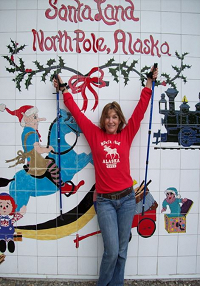 Hi Sheri
Thought I'd update you on my use of the Poles while on the road. I love them!
Have had 'no problem' with them in my carry-on luggage and of course a great conversation piece. They have been to airport security and used in LA, Seattle, Wenatchee, Kennewick, Toronto, Anchorage, Fairbanks and even to North Pole! I have taken photos and will send some to you.
I was speaking at a women's conference tour last week and showed them to the ladies and mentioned your website – I am out of your cards. In August, they will be traveling with me across Canada.
It is no fun to go to some hotel where the exercise room is an after thought with equipment in a windowless room and doing exercise dvd's with my computer in my room is something I pack for yet 'never do'. Now, I explore the area – love walking with them – and don't worry about being a woman out alone as I look very fit using them (don't mess with her), and I almost look as though I am armed with defense weapons already (tongue in cheek this last comment)
I am so glad I met you and have my Keenfit Poles. Can see definition in my arms already!!!
In appreciation,
Lorna
Lorna 
Vancouver
, 
British Columbia – CA