Follow our simple 4-Step process:
If you want to be sure to maximize your benefits & get all you can out of Pole Walking. You need to learn how-to-do-it-right & then work at getting-good-at-it.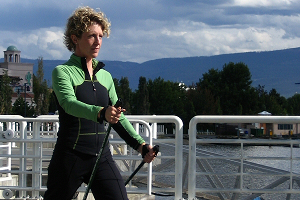 The Videos below are designed to walk you through a simple 4-Step Process to help ensure you will Get Good at Pole Walking, so you will use your Walking Poles the 'right' way & maximize your benefits.
Be sure to watch ALL of our Free on-line How-to Videos below. Watch them together with a friend if possible – it takes less than 30 minutes.
Having someone watch that you have the correct form & are doing things 'right' – can really make a difference, remember:
"What one 'think' one is doing, & what one is 'actually' doing
– aren't always related!"
---
STEP 1 Walking Pole Feet Options
STEP 2 How To Set Your Walking Poles
STEP 3 Avoid Bad Habits
STEP 4 The Keenfit Pole Walking System