The Keenfit Factor…
Creating a pair of

good quality

; durable;

light-weight

,


sturdy

;

rattle-free

Walking Poles that are not only


comfortable

&

easy to adjust

but also

affordable


& something we could

stand behind

,

warranty without difficulty
&

be proud of

– was our quest…
These were some of the factors, along with many more, that we made extremely important when we started Keenfit – the Pole Walking Co.
Here's the story of how our Keenfit Walking Poles were created…
I, Sheri Simson, aka The Pole Lady, discovered Pole Walking almost 10 years ago on a trip to Denmark where my Mother-in-law ended up giving me a pair of poles someone had just given her. I didn't know at the time but they were a very crude pair of trekking poles – they had ski-pole handles & straps with hard-rubber trail-feet – I was so excited to get them that I didn't mind that they weren't very comfortable & that they clunked, rattled & vibrated with every step.

A couple of years later, after I fell in love with Pole Walking & it changed my life [click here to read my whole life-changing story] – I started my search to find the best walking poles out there – poles that were good quality & well priced – that I could proudly represent & have available for people to use during my clinics & affordable for them to buy if they wanted them for themselves.

Well – it was not a simple task – In the end I had bought & walked with almost a dozen different pairs of Walking Poles & to no avail – I couldn't find anything I felt good about. They were either: too expensive; too cheap; too noisy; too clunky or too uncomfortable! I was so frustrated & disappointed – I nearly gave up.

Thankfully my husband suggested that I design my own… & that was the true beginning of Keenfit – the Pole Walking Co. – I didn't even know where to begin when it came to having them manufactured [my husband took care of that] but I did know what I liked & what I didn't like about all the poles I had been Walking with over the last thousands of kms/miles.

It took probably 4 to 5 goes at it before we finally got it to where we have them today – working on everything from the materials; to the finishes; to the sizing, to the design of the locking mechanism, the handles & straps.
WE are proud to say that since March 2004:
We have sold tens of thousands of pairs of Keenfit Walking Poles
We WON the 2012 About.com Readers' Choice Award for BEST WALKING POLES
…All while maintaining a less than 0.3% Return/Warranty Rate!
"Walking Poles should not only be light-weight, sturdy & rattle-free
but to help ensure that you'll use them – they should also be
easy to adjust & comfortable… I Guarantee ours are!"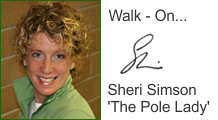 Please continue-on & get all your questions answered
so you can get the right Walking Poles for YOU…